Commissioning new choral music
Have you ever thought about commissioning a new piece of choral music for your full choir, a small ensemble, a trio/quartet or perhaps a feature piece for solo voice?
To commission new choral music is a unique, exciting and potentially highly rewarding process. It gives you, as the person commissioning the new work, the opportunity to be an integral part of the creative process, working with a living composer, whilst your singers will inevitably be caught up in the excitement of bringing to life, for the very first time, a never-before-heard composition that has been created especially for them.
There are many circumstances and situations that may suggest that now is an excellent time to consider commissioning a new piece of choral music. These include:
a newly-discovered text;
a special occasion such as a milestone event, wedding, anniversary, retirement;
honouring or memorialising a special person;
a school, team or organisation anthem;
opening an event or new facility;
commemorating an historical event;
providing a piece that is the focus of a concert, festival or worship experience;
a concert tour;
showcasing an ensemble or soloist; or
liking the work of a particular composer and having him/her create a piece that is uniquely yours.
As the person responsible for commissioning a piece of new choral music, you (and your singers) will be seen as people of vision, responsible for bringing to the contemporary cultural scene a new musical experience that has the potential to be adopted and performed by others around the world. And it will always carry with it, at the top of the printed page, the dedication to those who commissioned it.
I am always happy to discuss proposals and possibilities for commissions, as well as the process involved. Whilst the primary focus of my writing is for choir and solo voice, I am also able to write instrumental music or add instrumental accompaniment to choral/solo pieces.
As a published composer, I submit all my commissioned works to my publishers, Edition Peters, for their consideration. Whilst there can be no guarantees, there is a real possibility that your commissioned work will be published at the end of the agreed period during which you have sole performing rights.
I would welcome the opportunity to write a new work for you and your choir. Please contact me if you would like to discuss a possible commission.
The Commissioning Process
Perhaps you have thought about commissioning a new piece of choral music, but are somewhat daunted by, or unsure of, the process and costs involved. That's quite understandable, but let me assure you that the process is not complicated and need not be prohibitively expensive.
Included below is a set of guidelines to help get you started and to address some of the questions that you may have.
How to Commission New Choral Music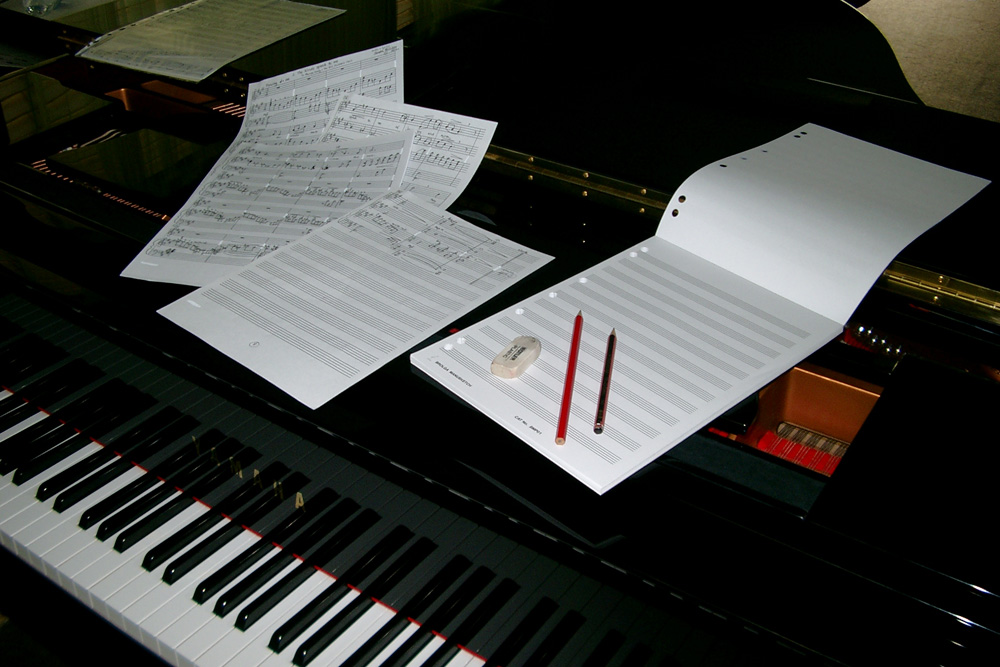 A selection of my previous commissions includes: