Recordings of Works by Sandra Milliken
My compositions and arrangements are now widely performed by choirs around the world and several choirs have included recordings of my works on their CD releases.
The CDs listed below are those that I am aware of that include one or more recordings of my compositions and arrangements. No offence is intended to those other choirs who have included recordings on their CDs, but whose titles do not appear below. If you would like to contact me and provide the relevant details, I would be most pleased to include them in the listing.
The recording artists include The Queensland Youth/Show Choir (Australia), Canticum Chamber Choir (Australia), Klemetti Institute Female Choir (Finland), Redbridge Music School (London), Cambrian Youth Choir (Australia), Ensemble Vocal Ganymede (Canada), Bella Voce Women's Choir of Vermont (Vermont, USA), Canto con Fuoco (The Netherlands), Merikosken Laulu (Finland), Oslo Vocalis (Norway), Las Cantates (New Mexico, USA) and Chorus Iuvenalis (Finland).
I hope you can take the time to browse through these recordings. Perhaps amongst the many titles you may come across something to add to your own repertoire. Enjoy!
NEW LEAVES
The Queensland Youth Choir
Conductor: Sandra Milliken
This recording was conceptualised as a promotion of new Australian music. It is an eclectic mix of works by Australian composers and arrangers that were commissioned by, or written especially for the choir; that were arranged specifically for the recording; or that had not previously been widely recorded in Australia.
Available from:
The Queensland Show Choir
PO Box 740, Fortitude Valley Qld 4006, Australia
Tel: +61 7 3257 4905
Email: admin@queenslandshowchoir.com.au
Web: The Queensland Show Choir
Track List
Gawura – Dan Walker
Bora Ring – Sandra Milliken 

Three Australian Bush Songs – Iain Grandage
Sesere Eeye – Trad. arr. Mark O'Leary
Waiting for the Sun – Sandra Milliken

Songs of Australia – arr. Kathy Hirche
The Lord is My Shepherd – Jason Barry-Smith
Ave Maria – Jaakko Mäntyjärvi
Kyrie – Reijo Kekkonen
On suuri sun rantas – Trad. arr. Matti Hyökki
Rock Song – Sandra Milliken

Banana – Trad. arr. Mark O'Leary
The Colonial Boys – arr. Kathy Hirche
Down Under – Strykert / Hay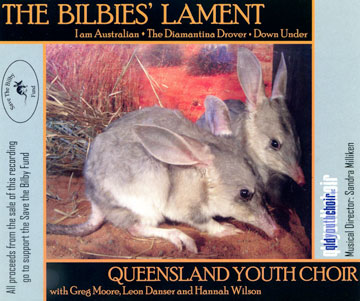 THE BILBIES' LAMENT
Queensland Youth Choir
Musical Director: Sandra Milliken
This CD was produced by the Queensland Youth Choir, as part of its community service program, to raise funds for the Save the Bilby Fund. The words for the song, The Bilbies' Lament, were written by Frank Manthey, one of the "Bilby Brothers" who co-founded the Save the Bilby Fund. His words were set to music by Sandra. "The Diamantina Drover" was a favourite song of the other Bilby Brother, Peter McRae.
This recording is no longer available.
Track List
The Bilbies' Lament – Sandra Milliken 

I am Australian – Bruce Woodley arr. Kathy Hirche
The Diamantina Drover – Hugh McDonald arr. Sandra Milliken 

Down Under – Ian Hay arr. Kathy Hirche
The Bilbies' Lament – second version – Sandra Milliken
RUBY SEASONS
Cambrian Youth Choir
Musical Director: Berniece Hicks OAM
This CD was produced in 2009 to mark the 30th anniversary of the Cambrian Youth Choir, one of several ensembles that make up the Blackstone-Ipswich Cambrian Choir. The choir was founded in 1969 by Blodwyn Whitehead OAM who continued with the choir until 1996. It was Blodwyn who provided the foundation of Welsh musical culture and world-renowned reputation that is still with the choir today.
Available from:
The Blackstone-Ipswich Cambrian Choir
PO Box 4, Ipswich Qld 4305, Australia
Tel: +61 7 3282 1088
Email: info@cambrianchoir.org.au
Web: The Blackstone-Ipswich Cambrian Choir Inc.
Track List
Celebrating the Seasons – Andy Beck
Let there be Music – Sally K Albrecht
There is a Season – Greg Gilpin
Magnify the Light – Carl Strommen
Viva la Musica – Sandra Milliken

The Rose – Amanda McBroom
Rhythm of Life – Cy Coleman arr. Richard Barnes
Lullabye – Billy Joel arr. Mac Huff
When the Sun Goes In – Trad. arr. Greg Gilpin
IN PARADISUM
Canticum Chamber Choir
Director: Emily Cox
Canticum Chamber Choir is an independent semi-professional chamber choir based in Brisbane, Australia. It was formed in 1995 with Emily Cox as its founding Music Director. The choir performs a diverse repertoire from the renaissance and baroque periods through to music of the late 20th century and contemporary composers, and has been proud to premiere many works. In 2005 Canticum was selected to be a guest choir at the 7th World Symposium on Choral Music held in Kyoto, Japan.
Available from:
Canticum Chamber Choir
PO Box 3029, Tarragindi Qld 4121, Australia
Email: contact@canticum.org.au
Web: Canticum Chamber Choir
Track List
Before the Morning Star – Ian McKinley
In Paradisum – Sandra Milliken

Capricornia – Gerard Brophy
Do Not Stand at my Grave and Weep – Joseph Twist
John Shaw Neilson Triptych – Christopher Willcock
Three Australian Bush Songs – Iain Grandage
Australian folk songs – arr. Ian McKinley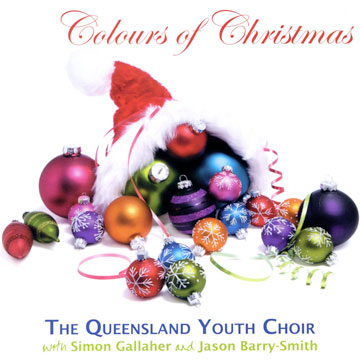 COLOURS OF CHRISTMAS
Ensembles of the The Queensland Youth Choir
Conducted by Sandra Milliken, Rhonda Coady, Marion Wood, Tammy and James Kilpatrick
with guest artists Simon Gallaher and Jason Barry-Smith
The collective ensembles of the Queensland Youth Choir have had a long history of performing Christmas carols and songs at a significant number of events and venues across the city of Brisbane. This recording brings together a collection of some of their Yuletide favourites.
Available from:
The Queensland Show Choir
PO Box 740, Fortitude Valley Qld 4006, Australia
Tel: +61 7 3257 4905
Email: admin@queenslandshowchoir.com.au
Web: The Queensland Show Choir
Track List
Colours of Christmas – Craig Allister Young
See the Baby Boy – Sandra Milliken

Red and Green Christmas – Nadia Cattouse
Golden Kangarooc Garrison Valentine
Six White Boomers – Rolf Harris
The Virgin Mary Had a Baby Boy – Trad. arr. Hatfield
When Christmas Comes to Town – Glen Ballard
Rudolph the Red Nosed Reindeer – Johnny Marks
African Noel – Ronald Kaufmann
There is No Rose – Benjamin Britten
O Tannenbaum – Trad. arr. William Bohn
Blue Christmas – Billy Hayes arr. Mac Huff
Bambino – Tom Springfield
Walking the the Air – Howard Blake
Let it Snow / Winter Wonderland – Blake arr. Billingsley
Christmas Song – Torme & Wells arr. Audrey Snyder
Angels Keep Rejoicing – Doug Holk
O Holy Night – Adolphe Adam arr. Alan Slater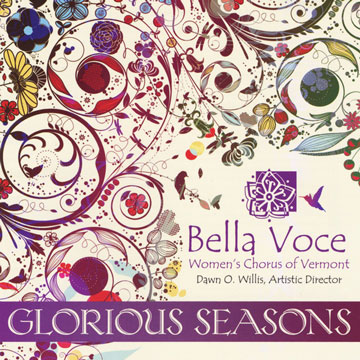 GLORIOUS SEASONS
Bella Voce Women's Chorus of Vermont
Artistic Director: Dawn O Willis
Email: director@bellavocevt.org
Web: Bella Voce Women's Chorus of Vermont
This CD has selections from every season including Spring and Summer from Gustav Holst's Two Eastern Pictures with harp; Daniel Hall's haunting Indian Summer with piano and oboe; and a variety of Christmas pieces including Randol Alan Bass' Christmas Flourish and Gloria for women's voices, brass quintet, organ, and percussion. Glorious Seasons also contains several unaccompanied pieces by Australian composer, Sandra Milliken.
Track List
Alleluia – Charles Callahan
Spring from Two Eastern Pictures – Gustav Holst
The Rose of Sharon – Thomas Juneau
Indian Summer – Daniel J. Hall
Cantate Domino – Sandra Milliken

Os Justi – Eleanor Daley
El Romantón – Francisco Muro, arr. Miguel Astor
Sing Me to Heaven – Daniel E. Gawthrop
Veniki – arr. Milan Uherek
Dona Nobis Pacem – Sandra Milliken

Hodie Christus Natus Est – Sandra Milliken

Dormi Jesu – Sandra Milliken

I Saw Three Ships – arr. Tom T. Shelton
Still, Still, Still – arr. Ken Berg
Nativity Carol – John Rutter
Gloria – Randol Bass
Christmas Flourish – Randol Bass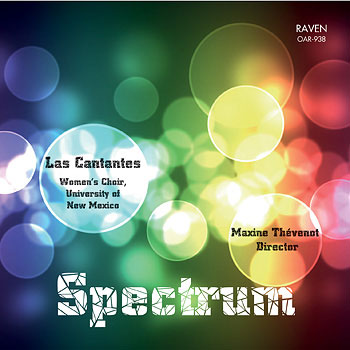 SPECTRUM
Las Cantantes Women's Choir
Director: Maxine Thevenot
Raven Recordings Cat. #938
Email: thevenot@unm.edu
Web: Las Cantates
Las Cantantes, the only collegiate women's choir in the State of New Mexico since 2007, is directed by Dr. Maxine Thévenot. This group is comprised of 18 singers who are selected via audition. This ensemble studies, rehearses and performs the finest literature written for treble voices. The ensemble is, at times, accompanied by other instruments such as the harp, percussion, piano, and pipe organ.
Available from:
Raven Compact Disc
ArkivMusic
Allmusic
Track List
A Little Jazz Mass – Bob Chilcott
Peace at the Last – Bradley Ellingboe
Prayer for the Gifts – Kinley Lange
Mass in A, op. 126 – Josef Rheinberger
Pues todas las aves vuelan – Paul Carey
The Lone, Wild Bird – Dan Locklair
Improperium – McNeil Robinson
Rise up, my love – Eleanor Daley
Dona nobis pacem – Sandra Milliken
Gabi, gabi – Trad. arr. William C Powell
Kumbaya – Trad. arr. Kirby Shaw
2012 ACDA Central Division Conference
Wheaton College Women's Chorale
Director: Mary Hooper
Web: Wheaton College Women's Chorale
and
Western Michigan University Cantus Femina
Director: Dee Gauthier
Web: Cantus Femina
Wheaton College Women's Chorale maintains a busy concert schedule on campus and beyond. In addition to ministry in churches around the nation and campus appearances, the Women's Chorale has appeared in recent years at both regional and national conventions of the American Choral Directors Association (ACDA).
Cantus Femina is Western Michigan University's premiere women's chorus and each year performs at WMU and in surrounding communities. Cantus Femina sings a wide variety of literature and takes pride in singing newly written contemporary works.
Available from: 
Soundwaves
iTunes
Track List
Fanfare of Praise – Sandra Milliken

Laetatus Sum – Niccola Porpora
I am a little church – Daniel Brubaker
Holy is the Lord – Jeffrey L Ames
Sanctus – Agneta Skold
Braided Lights – Joan Symko
Deus Noster Refugium – Kurt Knecht
Missa in Fa – Jiri Laburda
SONGS FROM THE OLD AND NEW WORLD
WomenSing
Artistic Director: Martin Benvenuto
Email: info@womensing.org
Web: WomenSing
Established in 1965, WomenSing draws members from the San Francisco Bay Area. Singing with a vibrant and beautifully blended sound, WomenSing programs include both the traditional and the unexpected, featuring great landmarks of the treble repertoire, seldom-performed works, new music, commissions from nationally recognized composers, and familiar music from all eras. The choir has performed throughout Europe, Asia, Latin and South America, Canada and the United States.
Available from:
cdbaby
Track List
Kyrie from Messe Op 126 – Josef Rheinberger
Gloria from Messe Op 126 – Josef Rheinberger
Unseen Secrets – Joshua Fishbein
A Precious Pearl – Lauren McLaren
Day Break – Stephen Paulus
Sea and Sky – Stephen Paulus
Winter, Snow – Carol Barnett
Magnificat – Christine Donkin
Proface, welcome! Derek Holman
Ivy, chief of trees – Derek Holman
Hodie Christus natus est – Sandra Milliken

Weep No More – David N Childs
Wit and Fright – Ryan Harper
Bright Morning Stars are Rising – arr. Shawn Kirchner
O VOS OMNES
Ensemble Vocal Ganymède
Conducted by: Yvan Sabourin
Web: Ensemble Vocal Ganymède
The Ensemble Vocal Ganymède, whose members come mainly but not exclusively from the Montréal gay community was created in 1991 by Yvan Sabourin, its current music director. The choir's mission is to present the classical male-voice repertoire; the better to raise awareness of this music and to provide an image of openness and respect.
Available from:
ArkivMusic
iTunes
Allmusic
Amazon
Track List
O Vos Omnes – Pablo Casals
Lux Aeterna – Brian A Schmidt
What then, my Love – Nancy Telfer
Panis Dei – Sandra Milliken

In Remembrance – Eleanor Daley
Ave Maria – Eleanor Daley
Music, when soft voices die – Leonard Enns
Die Nacht – Franz Schubert
Magnificat – Donald M Kedrick
Te, Mater – Jean Papineau-Couture
Natus est Nobis – Tomás Luis de Victoria
O Magnum Mysterium – Morten Lauidsen
Quand vous Morrez de Nos Amours – Gilles Vigneault
Facti Sunt – Marc Antonio Ingegneri
Ave Maria – Luigi Bottazzo
Regnum Mundi – Jacobus Handl
Les Fleurs des Champs – Jacques Ibert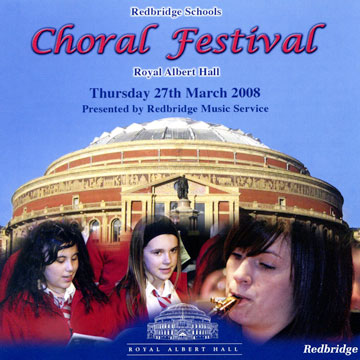 CHORAL FESTIVAL
Redbridge Schools Massed Choirs
Conductors: John Garner, Heather Guard, Martyn Tubb
Redbridge Music School Symphony Orchestra
Conductor: Eric Forder
The 17th Redbridge Schools Choral Festival took place at Royal Albert Hall on 27 March 2008. A massed choir from 43 primary schools and 16 secondary schools (over 1800 singers) took part in the Festival with the Redbridge Music School Symphony Orchestra.
Available from:
Redbridge Music Service
John Savage Centre
Fencepiece Road
Hainault
Ilford Essex IG6 2NB
Tel: +44 20 8501 3944
Web: Redbridge Music Service
Track List
National Anthem – arr. Alan Pegrum
Star Trek: Deep Space Nine Theme – Dennis McCarthy arr. Phil Lawrence
Olympics – Alan Simmons
Tequila – Chuck Rio arr. Paul Lavender
Prelude – Les Chasseresses – Delibes
Anthem – Sandra Milliken

Prince Igor – Choral Dance No 17 – Borodin
Klezmer Item
Refuge – Howard Goodall
Tritsch-Tratsch Polka – Strauss
Irish Blessing – Bob Chilcott
Medley from Misérables – Schönberg arr. Lojeski & Tubb
Jerusalem – Parry arr. Elgar
PRELUDE
Oslo Vocalis
Conductor: Vigdis Oftung
Web: Oslo Vocalis
Oslo Vocalis was formed in 1988 and is comprised of 25 female singers. It has already had great success in both national and international choir competitions, including Arezzo, Sligo and Athens. The choir performs all over Europe with repertoire ranging from jazz, to folk and church music. 'Prelude' presents a collection of some of the most beautiful and inspiring works for choir.
The music on tise disc features works by major figures like Grieg, Fauré, Holst, and Tveitt, as well as pieces by several lesser known but significant composers, including Ola Gjeillo, György Orbán and the Australian composer and conductor Sandra Milliken.
Available from:
iTunes
Klicktrack Music Store
Amazon
Track List
Ubi caritas – Ola Gjeilo
Velkomme med æra – Geirr Tveitt
Brudemarsj fra Moss – Terje Norum
Ved Rondane – Edvard Grieg
Messe basse – Gabriel Fauré
Lauda Sion – György Orbán
The Lord is My Shepherd – Javier Busto
O Magnum Mysterium – Frank Havrøy
Dostóyno yest – Pavel Chesnokov
Ave Maria – Gustav Holst
Fanfare of Praise – Sandra Milliken

Prelude – Ola Gjeilo
AUTUMN COMES
Canto con Fuoco
Conductor: Jo Louppen
Email: s.vanderleeuw@gmail.com
Web: Canto con Fuoco
Canto con Fuoco, founded in 1983, is a small women's vocal ensemble from Geleen in the Netherlands. They perform a wide repertoire of secular and sacred music, in different languages, ranging in period from Renaissance to contemporary. Their name means "singing with fire", which fits perfectly with their music spirit. The group often sings a cappella, but also with instrumental accompaniment.
Available through:
Koorcd.nl
Track List
Er ist's – Hugo Distler
Das verlassene Mägdlein – Hugo Distler
Cantate Domino – Sandra Milliken
Sing for joy! – G.F. Händel
Autumn comes – arr. G. Sommereyns
Cantique de Jean Racine – Gabriel Fauré arr. John Rutter
L'onde est endormie – Cesar Qui
La nuit – J-Ph. Rameau arr. N. Grundahl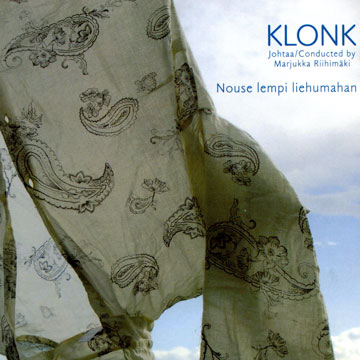 NOUSE LEMPI LIEHUMAHAN
Klemetti-Opiston Naiskuoro (KLONK)
Conducted by Marjukka Riihimäkki
KLONK comprises approximately 30 active singers who gather each summer from all over Finland to spend a week doing vocal exercises, rehearsing a new program and spending some quality time in excellent company at the Klemetti Institute in the Lake District. During the year KLONK tours two or three cities with its new program, giving splendid concerts before coming together again in the next summer.
Track List
Suvetar – Jenny Wilhelms
Herr Olof – Jenny Wilhelms
Ikävä omia maita – Anna Mari Kähärä
Marjatan Laulu – Jussi Chydenius
Tule kanssani satuun – Jukka Linkola
Kesäyönä – Toni Edelman
Me kuljemme kaikki kuin sumussa täällä – Jussi Chydenius
Tulisit – Anna-Mari Kähärä
Mieli melkiässä – Mia Makaroff
Minum kultani kaunis on – Trad. arr. Anna Mari Kähärä
Läksin minä kesäyönä käymään – Trad. arr. Jussi Chydenius
Tango in 5 – Sandra Milliken
OLENNAINEN
Merikosken Laulu
Conducted by Marita Pasanen
Web: Merikosken Laulu
The Merikosken Laulu ladies choir, was established in 1947 and today it is home to more than 50 singers. The choir and its various ensembles perform at, and participate in, music events and festivals throughout Finland as well as abroad.Their conductor since 2001 has been Marita Pasanen, is a versatile professional musician – conductor, composer and a classic singing teacher. Merikosken Laulu has released three recordings. The most recent, "Olennainen", was recorded in 2008 – a spiritual record where women of different ages come together with a passion, energy and love of singing.
Available from:
Fuga Musiikki Oy
Track List
Herää sydämeni – Trad.
Katson virran kalvohon – Leevi Madetoja
Panis Dei – Pekka Kostiainen
Ave Maria – Teuvo Tikka
Dormi, Jesu! – Milliken, Sandra

Herra, minun valoni – Juhani Komulainen
Pidä minusta kiinni – Jaakko Löytty
Bred dina vida vingar – Björn Ståbi
Lova Gud i himmelshöjd
Kanteleeni – Kreeta Haapasalo
Rukous – Mooses Putro
Iltarukous – Trad. Soifie Lithenius
Sus siunaa – Juha Holma
Illalla – Heino Kaski
Ei mitään multa puutu – Trad. Leevi Madetoja
Credo – Juha Holma
LAULAN!
Kamarikuoro Camis
Conducted by Timo Lehtovaara
and
Chorus Iuvenalis
Conducted by Kari Jantunen
Puolalanmäki Senior High School in Turku, Finland, offers students a comprehensive view and good knowledge of music. Choirs have always been the heart of the school's music education program. On this CD, the choirs present a collection of familiar and unknown, new and old, peaceful and hilarious choral music from Finland! There are musical images that can be found in every Finn's soul – images of woods, trees, lakes, starlight, longing, stillness, power, dartboards and potatoes.
Available from:
Puolalanmä High School
Aurakatu 11
20100 Turku, Finland
Web: Puolalanmäki Senior High School
Track List
Laulu perunoiden kiehuessa – Anna-Mari Kähärä
Kuka nukkuu tuutussasi – Anna-Mari Kähärä
Sortunut ääni – Jean Sibelius
Drömmarna – Jean Sibelius
Sydämeni laulu – Jean Sibelius
Illalla – Heino Kaski
Valkea uni – Aarre Merikanto
Metsätieni – Aarre Merikanto
Hyvää yötä – Aarre Merikanto
Nocturne – Heikki Sarmanto
Veret tuli mun silimihini – Trad. arr. Pekka Kostiainen
Hiljaa – Juha Holma
Tango in 5 – Sandra Milliken

Älä lapsi paljon laula – Juha Holma
Kesäpäivä Kankasalla – Gabriel Linsén
Jäven takana – Trad. arr. Aare Joutsenvirta